Women's March hashtag became one of the most viral hashtags in 2017 and continued to be trending in 2018. The protest that started in the streets of many cities of the US, became a worldwide movement.
At the beginning of 2017, right the day after Donald Trump took the office of the president, millions of people marched in the streets of the United States. The march lasted a day only and became the largest one-day protest in the American history.
During Women's March, 4 million women and men gathered in the streets of the USA to stand for equality, justice and tolerance. This women's march did not gather Americans only in the streets of many cities, but it went viral too. Supporters of the march started using #womensmarch hashtag and within a few hours, it became one of the most trending hashtags on the internet.
The wave of women's March hashtag swamped twitter not only in 2017. The march happened in 2018 too. Famous people like Scarlett Johansson took the stand of speakers and encouraged the participants of the march.
Where does the Women's March Hashtag Come From?
The Roots: What was the Women's March For Initially?
[NEW VIDEO]: Just released the first #FleccasTalks fan submission! @MAGAmidge took her spoon mic to the streets of SF to ask people at the #WomensMarch some basic questions. Hilarity ensued!

FULL VIDEO: https://t.co/9hBQh04qbX pic.twitter.com/ibU8K9lnd6

— Austen Fletcher (@fleccas) February 16, 2018
The nationwide political rally that took place on January 21, 2018. It was the second women's march after 2017.
Interesting to know
The Women's March was originally organized by a woman named Teresa Shook. She is from Hawaii.
Teresa was pretty aware of the power of social media. So, she created a Facebook event for a march on Washington in protest of Trump's inauguration. This is how the Women's March hashtag first appeared on social media.
On January 21, 2017, million women and men of various backgrounds – young and old, of diverse faiths, immigrants and indigenous – came together to voice injustice and stand for tolerance and equality. This protest under the name, Women's March, was marked as the biggest one in the United States.
The idea for the Women's March departed from the frustration with Trump being elected as the president of the USA. It turned into a huge protest when Trump officially took the office.
Besides, it was a way for many women and men to remember that the power they have can bring a lot of tangible changes.
Our mission is to harness the political power of diverse women and their communities to create transformative social change.

Women's march official website
Women's March Hashtag 2018: More than an Annual March
"I don't want to be spoken to like you own me, like you think you can touch me when I say you cannot."

These are the messages celebrities like @WhoopiGoldberg, @cher and @oliviamunn shared during the #TimesUp Women's March in the U.S. pic.twitter.com/tG9UbLFz4Y

— Channel 4 News (@Channel4News) January 22, 2018
The march that took place in 2017 perhaps left some questions. Many people wondered what was the Women's March for? This year's Women's March has already shaped its real mission and focus.
That is to say, if you come across the Women's March hashtag, know that it is about protecting basic human rights and standing up for those who want to make a change in society.  
Last year it was just an expression of anger the public showed after presidential elections. The march that made a million women and inspiring speakers storm the streets of the US, has now turned into a movement.
The supporters of the movement fight on various fronts of legal challenges. They voice abortion rights, gender gap, environmental regulations, and healthcare.
Did you know? #PowerToThePolls event is a Part of Women's March
It's simple: when we vote, we win.

Even if you think you're registered to vote, text P2P to RTVOTE (788-683) right now to make sure you're registered.#PowerToThePolls pic.twitter.com/S8gaUeW7zf

— Women's March (@womensmarch) February 17, 2018
While celebrating the one-year anniversary of the Women's March the organizers of the movement launched the event called #PowerToThePolls.
#PowerToThePolls is a year-long "voter registration and mobilization tour". It aims at a tour across America which will work to secure progressive seats in 2018 by registering voters and increasing support for women and progressive candidates.
The event will take place in Nevada. Nevada has always been the hub of some of the nation's most pressing issues, including gun violence and sexual harassment. So they intentionally choose the venue.
If interested and want to contribute to the event get registered here.
Celebrity Speeches during Women's March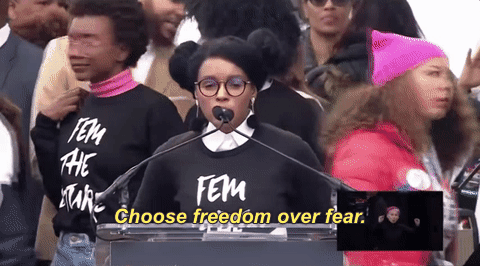 Among million women and men who marched along the streets of LA, there were many celebs who inspired the protestants with their speeches. There were many famous speakers such as Natalie Portman, Scarlett Johansson, Eva Longoria and Viola Davis.
These celebs shared their personal stories about sexual harassment, inequality and hidden dangers of Hollywood. Speakers like Natalie Portman and Halsey, in particular, made references to their own experiences of sexual harassment and abuse.
Viola Davis, like other speakers, voiced the problem of "faceless" women who fear to speak up and fight for their rights. She advised to break the silence and sense their self-worth.
As for Scarlet Johansson, she was sure that "the march can give the hope that we are moving towards a place where our sense of equality can truly come from within ourselves."
The Women's March Fashion
In the hustle and bustle of this movement, it seems that clothing wouldn't matter. Perhaps the participants didn't even think of it. They wore whatever they found and rushed into the streets. But a relevant T-shirt or a hat can tell more than thousands of sentences and slogans.
Protest tees, pussy hats and a lot of pink colors! This is what many designers suggested wearing at the Women's March.
Protest fashion was a cool one in 2017, but in 2018 it gained more serious momentum. The famous #TimesUp blackout at the Golden Globes gave new meaning to the idea of "power dressing". It came to prove that fashion is really a powerful tool as it can promote social change, gender equality and peace all around the world. Let's have a look at the fashion trends of Women's March 2018.
It was this time last year when political fashion came in the form of pink pussy hats. This amazing hand-knitted caps became a symbol of the Women's March and of women's empowerment in general very quickly.
Others wore just a pair of jeans and T-shirts with symbolic signs. This was one of the best ways to represent who they were. It felt quite natural and lively. Women who got dressed that way confessed that it expressed their true spirit.
Check Out Other Posts Related to Women's March Hashtag: What was the Women's March for? What did the Speakers say to Millions of Women Worldwide?