Women empowering women: doesn't it sound inspiring? Every new success story and every new victory of a woman should become an inspiration for other women. The importance of successful women giving motivational speeches is immense.
Who is ultimately going to have our back if not us-women? 
Even though some of us may not realize it immediately, but powerful quotes, speeches, and message have a huge impact on our thinking.
Words have more power than atom bombs.
We decided to take our time and express our gratitude to those extraordinary women who've changed the world. They never forgot inspiring and lifting other women up. Let's start with the list of women empowering women quotes and speeches.
1) Women Empowering Women Quote
I love to see a young girl go out and grab the world by the lapels. Life's bitch. You've got to go out and kick ass.

Maya Angelou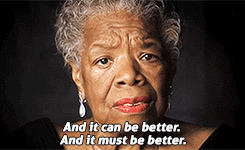 Maya Angelou, an American poet, memoirist, and civil rights activist, said these words during one of her speeches about human civil rights, which later became words of empowerment for women across the globe.
Angelou's message is one: the key to success isn't around your comfort zone and it's not hidden. Do you want to unlock the doors of success? Then go ahead, defend and stand up for your rights.
2) Women Empowering Women Quote
Women belong in all places where decisions are being made… It shouldn't be that women are the exception.

Ruth Bader Ginsburg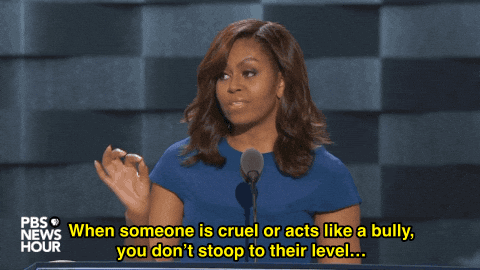 When I read this quote by Ruth Bader Ginsburg, the story of Michelle and Barack Obama came to my mind.
Once the president of the USA, Barak Obama, and his wife decided to do something out of their busy routine and went for a casual dinner at a restaurant that wasn't exactly luxurious.
A little bit later, the owner of the restaurant came up to the President's security service and asked for a permission to speak with the First Lady. Michelle agreed. They had a long and private conversation. When Michelle finally came back, Barack asked her, "What was the matter?"
Michelle told him that the owner was her high school classmate and was madly in love with her. President Obama then said, "So, if you had chosen him, you would have been the owner of this restaurant", to which Michelle responded, "If I had married him, he would have been the President of the USA."
Behind every powerful man, there is a wise woman with smart decisions. Behind every successful woman, there is another woman with empowering words or straight-up advice.
3) Women Empowering Women Quote
To all the little girls who are watching, never doubt that you are valuable and powerful and deserving of every chance and opportunity in the world to pursue and achieve your own dreams.

Hillary Clinton, 2016 Concession Speech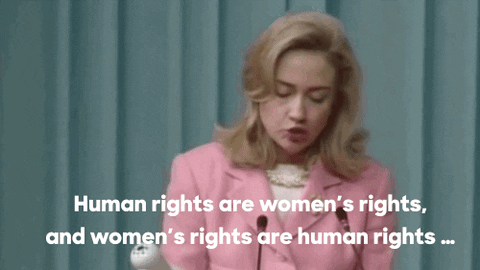 The former USA Secretary of State and a devoted defender of women's rights, Hillary Clinton, is a distinguished mentor when it comes to empowering women to go after their dreams.
I know there might be people who dislike her for various reasons. But the truth is that she is one of the most powerful inspirational speakers. She can light the fire the fire in you.
4) Women Empowering Women Quote
If I stop to kick every barking dog I am not going to get where I'm going.

Jackie Joyner-Kersee
Jackie Joyner-Kersee, a retired track and field athlete, is considered one of the greatest American athletes in the heptathlon and long jump. Besides being a brilliant athlete, Jackie has a sharp humor too.
This funny, yet very deep quote teaches a lot. Sometimes we put too much time and effort into proving our worth. Instead, we could've used those resources for concentrating on our goals.
5) Women Empowering Women Quote
Make the most of yourself by fanning the tiny, inner sparks of possibility into flames of achievement.

Golda Meir
The fourth Prime Minister of Israel, Golda Meir knows the art of authentic, creative writing and rhetoric speech that spreads her vibes of harmonious nature.
During one of her speeches, where she mentioned the importance of women empowering women, she highlighted the significance of sticking with that one little hope and turn it into a blossoming future.
The author of this amazing quote is one of the smartest female politicians, although lesser known. She teaches how to have hope. Hope is a motivation. It makes people act and strive.
It's a good idea to mention another saying about the half-filled glass. Everything depends on how you want to see things. You may consider the glass half-empty, but you may also consider it half-full.
6) Women Empowering Women Quote
Because I'm a female, I am expected to aspire to marriage. I'm expected to make my choices always keeping in mind that marriage is the most important. Marriage can be… a source of joy and love and mutual support. But why do we teach girls to aspire to marriage and we don't teach boys the same?

Chimanda Ngozi Adichie
Chimanda is a Nigerian writer of novels, short stories, and nonfiction. She was described by The Times Literary Supplement as "one of the most prominent critically acclaimed young Anglophone authors, who succeeded in attracting a new generation of readers to African literature".
Chimanda is one of those legendary, powerful and exceptional African writers who chose not to stay silent about inequality and taboos in the marital life of African women. Marital traditions and conservative mentality exist in the world, but we have to say that in Africa it goes too far.
Chimanda knows this very well. She wants African girls to understand that it's okay to choose between marriage or career or even both. It is every girl's personal choice and only she knows what she wants to do in life.
She also highlights the importance of boys to understand the seriousness of marriage. Usually, girls are the ones to be pushed into marriage, boys hardly ever take it seriously and never prepare themselves for it. This brings them to the same deadlock again.
Chimanda's main point is to make people realize that marriage consists of two sides, there are two people in this and both of them should take equal responsibility for the union.
As Chimanda says, women need to aspire to their passions and not to what society demands.
Check Out Other Posts Related to 6 Women Empowering Women Quotes: Speeches That Spread Powerful Messages