Whoopi Goldberg is perhaps one of the most successful and hilarious African American women. She is a human rights advocate, actress, and comedian, and is perhaps most famous for being one of the hosts on "The View."
Whoopi Goldberg is one of the only people in the whole entertainment industry who has won a Tony Award, Emmy Award, Grammy Award, and an Oscar, and has played a role in over 150 different films.
She is known for her key look of having dreadlocks and no eyebrows. Here are some of the key parts of Whoopi Goldberg's life.
Whoopi Goldberg's Early Life
Whoopi Goldberg was born with the name Caryn Elaine Johnson in Manhattan, New York City. She was raised by a single mother and had a brother, who died three years ago from a brain aneurysm.
A short anecdote that Whoopi told about her childhood was that she was one day watching Star Trek as a child, and she saw Nichelle Nichols, an African-American actress, play the part of Uhura.
Upon seeing this, Whoopi called her mother over, saying, "Momma! There's a black lady on TV and she ain't no maid!" Whoopi said that she began to enjoy acting and the desire to become an actress one day was planted within her, because acting was a way to pretend to be someone else and not be looked at strangely for doing so.
She ended up dropping out of high school because she had dyslexia, which made it difficult for Whoopi to continue her studies. Whoopi also became addicted to drugs. When she realized how large of a problem drug addiction had become for her, Whoopi sought help and received rehabilitative treatment.
She ended up marrying her drug counselor and had a daughter named Alexandra. Almost a year later, she and her drug counselor divorced.
In order to support her daughter financially, Whoopi worked three jobs as a bricklayer, bank teller, and a funeral home assistant. She also was on welfare. Her daughter is also an actress and a producer, and is Goldberg's only child. Whoopi Goldberg thus has three grandchildren and one great-granddaughter.
Whoopi Goldberg's Career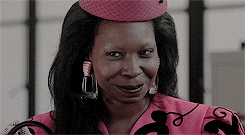 Whoopi ended up moving to San Diego, California in 1974 to pursue a career in acting, which was something she had dreamed of doing her whole life.
Some of her initial acts were working with the comedy group Spontaneous Combustion and performing in plays at the San Diego Repertory Theater. This was when she took on the stage name Whoopi Goldberg, naming herself after the popular whoopie cushion.
She said that it was because her personality was similar to that of a whoopie cushion- when you are gassy, you have to just let it go. She named herself Goldberg because she claims that it is a part of her family heritage.
Before her career took off in the United States, Whoopi Goldberg had lived in East Germany, where she worked in theater production. After moving back to the United States, she had an acting teacher who was named Uta Hagen. Hagen worked for the HB Studio in New York City.
Then, she moved to Berkeley, California, and joined the comedy troupe Blake Street Hawkeyes Theater. While working here, she learned many skills which helped her to become a more skilled actress and comedian. Whoopi Goldberg then created a one-woman show which was called The Spook Show.
She toured with the show all across the United States and Europe in the 1980s, and finally ended up in New York City. The success of this show caught the attention of Mike Nichols, a film director, who ended up offering her a spot of producing her show for Broadway in 1984.
When the show was shown on Broadway, it was retitled Whoopi Goldberg and had a total of 156 performances. Then, the next year, her big break occurred when she starred in the movie The Color Purple. This was when Whoopi caught the attention of people all across the nation and the world.
The film was nominated for 11 different Academy Awards, and Whoopi was nominated for Best Actress. Whoopi was the first African American who was nominated for both the Best Supporting Actress and Best Actress in the Academy Awards.
She received a Grammy Award in 1985 for "Whoopi Goldberg: Direct from Broadway" in the category Best Comedy Recording. She is one of only three women in history who has ever received that award.
1990s in Whoopi Goldberg's Career
Whoopi's next few films were not as successful. However, she was the second black woman to win any Academy Award for acting and the first to win an Academy Award for Best Supporting Actress after her role as a psychic in the film Ghost.
She then played the role of Guinan on Star Trek: The Next Generation, and also played a role in the film Sister Act, for which she was nominated a Golden Globe.
Some of the other films she acted in during the 1990s were The Lion King, Boys on the Side, The Pagemaster, Moonlight and Valentino, Corrina, Corrina, and Muppets Tonight.
She also was the first woman to solo host, and the African-American woman who hosted the Academy Awards in 1994. She continued to host the Academy Awards in 1996, 1999, and 2002.
She was the executive producer of the "Center Square" featured on Hollywood Squares. Whoopi ended up grabbing four different Emmy Awards for this role.
During the 1990s, Whoopi Goldberg was considered to be the highest-paid actress of all time. For the film Sister Act 2: Back in the Habit alone, Whoopi was alleged to have received a salary of anywhere from seven to twelve million dollars, which was the highest salary for any actress to have received at the time.
Whoopi also in 1999 was awarded the Women in Film Crystal Award, due to the fact that she had helped women to expand their role in the film and entertainment industry because of her endurance and the success of her work.
Early 2000s to Present Day
After she had hosted the Academy Awards and had appeared in a comedy show which was called The Associate, Whoopi returned to acting on Broadway. Her first Broadway show after her break from theater was called A Funny Thing Happened on the Way to the Forum.
She received the award "Mark Twain Prize for American Humor" in 2001 from the Kennedy Center for the Performing Arts. Whoopi received a star on the Hollywood Walk of Fame on her 46th birthday.
She won an Emmy Award in 2002 in the category of "Outstanding Special Class Special" for her role in Beyond Tara: The Extraordinary Life of Hattie McDaniel.
She won another Emmy Award in 2009 for Outstanding Talk Show Host on "The View." She won a Tony Award in 2002 as a producer for Best Musical for Thoroughly Modern Millie.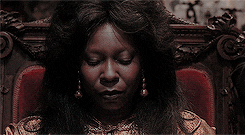 She starred in a few other films and shows, but the most famous was her role as a moderator and co-host on "The View" in 2007, a position she holds until today. She is known for her comedy and controversial commentary. "The View" is a popular talk show which focuses a lot on hot topics of the day, entertainment news, conversations between its co-hosts, and interviews with famous people who are politicians or celebrities.
Whoopi also played the character Carmen Tibideaux on Glee, who was a Broadway performer and opera singer. She was on the show for three seasons and six different episodes during those three seasons. Whoopi also has voiced several characters in different animated movies.
In 2008, she performed in the Broadway musical Xanadu from July 29th until September 7th. She also produced the movie Sister Act: The Musical alongside Stage Entertainment. She also is one of the contributors of the website wowOwow.com, which is a website for all women to gossip and talk about culture and politics.
Whoopi Goldberg as a supporter of human rights
She is also a strong supporter of human rights worldwide. One of the panels she moderated, at the Alliance of Youth Movements Summit, focused on an issue that is prevalent today, which is how violent extremism can be fought against via social media.
She moderated another panel at the United Nations in 2009, which included a discussion on human rights, terrorism, and children and armed conflict.
Whoopi also is one of the founders of a company called Whoopi and Maya, which focuses on helping women get relief for their menstrual cramps by using medical marijuana products. It was created in April of 2016.
Whoopi Goldberg is a New York Times bestselling author, and is also the author of several books, including: If Someone Says You Complete Me, Run!: Whoopi's Big Book of Relationships, the Sugar Plum Ballerinas series, Is It Just Me or Is It Nuts Out There, Alice, and Book.
Interesting to know
She also received the title of a "Disney Legend" for greatly contributing to the Walt Disney Company in 2017.
While Whoopi Goldberg remains a rather controversial figure, known for her very outspoken personality and for being rather opinionated, she is still a very accomplished woman. She is one of the most awarded individuals in the entire entertainment industry.
Check Out Other Posts Related to Whoopi Goldberg and Her Life Story | Learn about Her Biography, Books & Films