Harper Lee's To Kill a Mockingbird is a classic novel of modern American literature. The book tackles the issue of racism from the perspective of a 6-year-old girl in Maycomb, Alabama.
I think there's just one kind of folks. Folks.
The quote is by the narrator of the story, Jean Louise Finch, daughter of the main character Atticus Finch. She doesn't go by her name, everyone calls her Scout. Atticus is a character representing integrity and a moral hero.
The main themes discussed in Harper Lee's To Kill a Mockingbird are Southern life and racism, rape, class, courage, gender roles, written and unwritten laws and loss of innocence.
The legacy of the book is monumental: it is assigned to children at schools to teach tolerance and diminish prejudice. Recently, Harper Lee's To Kill a Mockingbird has been demanded to be removed from school curricula for the usage of racial epithets.
Ironically, it was originally introduced as a means of covering the issue of racism.
How do the characters of Harper Lee's To Kill a Mockingbird approach racism? What relevant and memorable quotes are in the book?
When reading Harper Lee's To Kill a Mockingbird, you automatically divide the book into 2 parts:
the children's obsession and fascination with the character Boo Radley,
how the Southern community approaches racism and domestic violence.
But first, who's the character Boo Radley in Harper Lee's To Kill a Mockingbird? How is he involved in the issue of racism and what quote defines him best?
Arthur "Boo" Radley is a character that prefers living in voluntary seclusion. The children of Maycomb, Scout, her brother Jem and their friend Dill, are convinced he's a horrible person because of the rumors spread about him.
Boo is a lonely person who seeks friendship. He tries to indirectly form a bond with Scout by leaving her gifts and figures. According to her, Boo is "sickly white, with a thin mouth, thin and feathery hair, and grey eyes, almost as if he were blind".
Boo is also the anti-hero of the story. He protects the children from the antagonist of the story and refuses to tell the community of his heroic action. The character isn't only there to save the kids, he is also in need of being saved.
Throughout the story, Jem and Scout become more compassionate towards him. They deduce that he is voluntarily staying at his because their townspeople are too cruel. They understand that he chose to stay out of humanity's mess. Jem's famous quote on the revelation is:
Scout, I think I'm beginning to understand something. I think I'm beginning to understand why Boo Radley's stayed shut up in the house all this time… it's because he wants to stay inside.
What does Boo Radley have to do with racism?
In a way, he is the character from which the Maycomb children learn life lessons. The patriarch of the Finches, Atticus, is a lawyer, who represents black defendant Tom Robinson in a publicized criminal trial.
The character Robinson is put on trial for the rape of Mayella Ewell. He confesses that he knew the victim and had helped her with household chores, but he insists he did not rape her and pleads not guilty. The most controversial quote in the book is when Robinson responds to why he had helped Mayella.
"Yes, suh. I felt right sorry for her, she seemed to try more'n the rest of 'em-" His sentence is left interrupted. Why is feeling sorry for a white girl scandalous and shocking? In a town where racism is prevalent, saying you feel sorry for someone means you consider yourself somewhat superior.
Now, imagine a black book character saying that to a white person. Despite Atticus's defense skills, the jury finds Robinson guilty. Eventually, he is shot and killed while trying to escape prison.
Radley and Robinson do not have a direct contact with each other, but they are alike. In Harper Lee's To Kill a Mockingbird, we see that both characters are handicapped men: Robinson physically, Radley mentally. The difference is that Robinson is killed and Radley is forced to kill.
We learn from these characters that justice and compassion do not know color. Jem and Scout are like Boo's children. He gives them things he considers valuable and saves their lives.
Boo's family is hinted to have disapproved his affection towards the children as Mr. Radley cemented the knothole where Boo left the gifts. Robinson sees the victim, Mayella, as a person who needs help. He feels sorry for her and says he had gladly helped her, because her father didn't seem to do so.
At the beginning of the book, Boo is antagonized the same way the townspeople antagonize Robinson. The characters are the subjects that help the children see the world for what it really is.
Class, courage and gender roles are also themes discussed besides racism in Harper Lee's To Kill a Mockingbird. The characters provide us with quotes that are still relevant half a century later.
Harper Lee's To Kill a Mockingbird challenges social norms. The book underlines individual value over the social status quo. When Scout makes fun of her poor classmate, she is punished for her actions by Calpurnia, their black cook.
Are you proud of yourself tonight that you have insulted a total stranger whose circumstances you know nothing about?
Atticus understands why she did so and stands up to her sister for suggesting to fire her for punishing Scout. The book strongly hints how gender and class exacerbate prejudice, racism and segregation.
Atticus's best quote on the matter is when he gives advice to his daughter Scout: "You never really understand a person until you consider things from his point of view… Until you climb inside of his skin and walk around in it."
Atticus addressed racism and class saying:
As you grow older, you'll see white men cheat black men every day of your life, but let me tell you something and don't you forget it—whenever a white man does that to a black man, no matter who he is, how rich he is, or how fine a family he comes from, that white man is trash.
Courage is another theme that is exhibited in Harper Lee's To Kill a Mockingbird. Scout is known to be impulsive and rowdy. She prefers using her fists to solve problems. She insults and fights characters who insult her father for defending a black man.
The quote that shows what courage really stands for is said by Atticus to his son:
I wanted you to see what real courage is, instead of getting the idea that courage is a man with a gun in his hand. It's when you know you're licked before you begin, but you begin anyway and see it through no matter what.
The narrator Scout also sees what being a girl means in a society that is racist and unjust. Her female role models are their cook, Calpurnia and Miss Maudie Atkinson. The latter lives across the street and has known the Finches for a long time.
Calpurnia and Miss Maudie are protective, headstrong and independent women. Rape victim Mayella Ewell also leaves an impact on Scout, when she accuses an innocent person to hide her feelings towards him.
Characters like Mrs. Dubose both criticize Scout for being a tomboy and insult her father for defending a black man. Scout is a balanced character. She carries masculine personality traits of Jem and Atticus, and feminine characteristics of Calpurnia and Miss Maudie. By the end of the book, we deduce that Scout is a feminist.
The absence of a parent is another observation
The Finch children's mother had passed away so long ago that they do not remember her. Mayella's mother is also dead. Atticus is the only father figure in the book that is not an abuser. Mayella's father molested his daughter, Boo's father locked him in the house.
Atticus is the only character who portrays what true masculinity is. Scout speaks of her father in the following quote: "With him, life was routine; without him, life was unbearable."
The final themes of Harper Lee's To Kill a Mockingbird are loss of innocence of the characters and written and unwritten laws. Quotes on these topics, alongside racism, continue being memorable.
The Maycomb society has social codes that are broken throughout the book. The character Mr. Dolphus Raymond is exiled for marrying a black woman and having interracial children. Mayella is abused by her father for seducing Robinson. Boo Radley is a recluse.
Our impulsive narrator Scout is intolerant towards laws and breaks society unwritten rules. For eg., she blatantly refuses to wear feminine clothes. Her quote on the matter is:
I felt the starched walls of a pink cotton penitentiary closing in on me, and for the second time in my life I thought of running away. Immediately.
At the same time, the kids have their own codes: they spit on their palms, they incessantly discuss the law with their father.
Loss of innocence refers to, first and foremost, Tom Robinson and Boo Radley, misunderstood outcasts of society. The title of the book is a metaphor for them, both being a Mockingbird. But why a Mockingbird? The book's famous quote goes:
Mockingbirds don't do one thing but make music for us to enjoy. They don't eat up people's gardens, don't nest in corncribs, they don't do one thing but sing their hearts out for us. That's why it's a sin to kill a Mockingbird.
Loss of innocence is also exhibited when Atticus loses the case. With children and black spectators watching, he leaves the courtroom as his children rise to honor is efforts.
Miss Jean Louise, stand up. Your father's passin'.
The characters and quotes of Harper Lee's To Kill a Mockingbird have taught us more about racism in 376 pages than any school teacher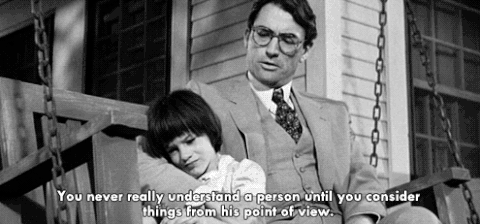 The novel is full of warmth and humor while tackling serious topics. Racism is a sensitive subject, and Harper Lee's To Kill a Mockingbird approached it straightforwardly, yet gracefully.
It showed us the grim reality of how societies treat black people. Moreover, it showed us how society feels about people who do not fit in the status quo.
It challenged the social norms and taught us lessons that are always relevant. Racism still exists. People discriminate people according to their class. Gender roles are real. Harper Lee managed to cover multiple issues in her book, which is why many schools assign the book to students.
Scout is a character we somehow all relate to. Whether it's her curiosity, her impulsiveness, her disobedience or her growth, we all have a Scout in us. In the words of our narrator and my favorite quote from the book: "Hey, Boo."
Check Out Other Posts Related to Harper Lee's To Kill a Mockingbird: Racism, Characters and Quotes