Black Panther's cast is so badass, you have a hard time picking which character you love the most. The new Marvel superhero movie has shattered several records already.
Black Panther has been the second fastest movie to reach $400 million, only in 10 days! Black Panther is also the highest grossing movie with an African-American director, and has the highest comic-book superhero movie rating on Rotten Tomatoes with an impressive 97% score.
The new superhero movie isn't breaking records only because it's a part of the Marvel cinematic universe or its special effects. Black Panther's cast is another reason why the movie is critically acclaimed.
The biggest reason why the movie has high ratings is because Black Panther's cast delivered a marvellous (pun intended) performance and celebrated diversity in the most positive and triumphal way.
The premiere of the movie was so colorful and full of traditional African attire that it made you want to watch the movie even more. Director Ryan Coogler spoke of the premiere saying:
To see people of all backgrounds wearing clothing that celebrates their heritage, taking pictures next to our posters with their friends and family, and sometimes dancing in the lobbies of theaters, often moved me and my wife to tears.
It's no surprise that the movie has high ratings. They've practically nailed everything!
The Marvel superhero movie takes place in Wakanda, a country that isolates itself and poses as a Third World country. Black Panther's cast consists largely of African-American actors
Black Panther's cast has been highly important for African-American representation in movies, specifically, superhero movies. The best reviewed Marvel movie with the highest ratings has one of the best ensembles in superhero movies.
Their chemistry off screen is also depicted on screen as well.
Black Panther's cast:
T'Challa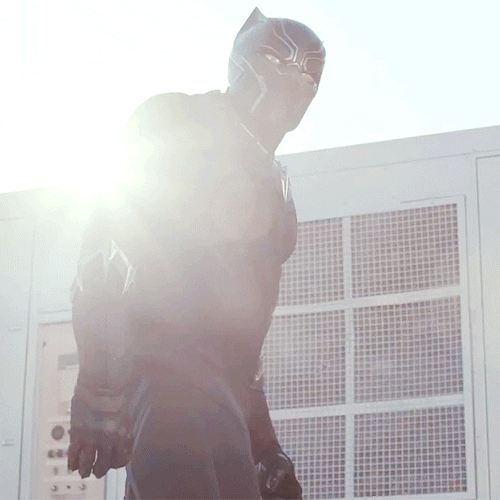 Let's start with the actor of Black Panther's cast, Chadwick Boseman, who plays king T'Challa, also known as the Black Panther. We were first introduced to this character in Captain America: The Winter Soldier. After his father, T'Chaka, is assassinated, he ascends the throne and becomes the leader of Wakanda.
The movie takes place a week after his father's assassination. Although he's the protagonist of the movie, he's considered more of an anti-hero, different than heroes Marvel has offered before.
T'Challa is aware of his responsibilities, he has himself under control and thinks about his people first. He acquires his abilities through ancient Wakandan rituals of drinking the heart shaped-herb and technology. Wakanda is home to the fictional metal vibranium, one of the most powerful metal in the Marvel comics.
T'Challa's proficiency in science, along with his exhaustive physical training, combat skills, access to advanced technology and wealth, aid him in battling his enemies. In the movie, he tries to figure out a way to help the world while also trying to maintain Wakanda's alleged Third World country status.
Black Panther's cast:
Shuri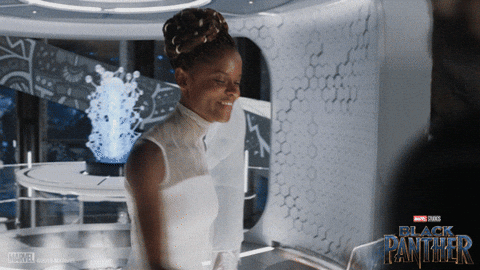 Shuri is by far the best character from the Black Panther's cast. She is the 16-year-old sister of T'Challa who is a tech genius. She designs new technology for Wakanda and has a killer lab. The actress playing her, Letitia Wright, describe her character saying:
She has an innovative spirit and an innovative mind who wants to take Wakanda to a new place… has a great fashion sense.
Her relationship with her brother doesn't change when he becomes king. Like every sibling, she plays pranks on him, makes fun of his fashion sense and helps him get on his feet, right after she's done laughing at him. According to executive producer Nate Moore:
Shuri is the smartest person in the world, even more so than Tony Stark.
Shuri broke stereotypes of smart women who have no fashion sense, wear glasses and are dull. She is lively, energetic, and possibly the coolest character in the Marvel cinematic universe.
She loves designing gadgets and outfits for her brother who later buys buildings in California and has her act as a technology and research leader there. Even if you don't like superhero movies, Shuri will make you want to watch them.
Black Panther's cast:
Erik Killmonger
You can't have a superhero movie without a villain. Black Panther's antagonist, Erik Killmonger, is played by Michael B. Jordan. Ironically, he also played superhero Human Torch in the 2015 Fantastic Four movie.
So, what's up with Killmonger? He was born N'Jadaka and is the nephew of the late King T'Chaka. He found his father dead in their apartment in Oakland after a confrontation with the king and was left in the US to keep his death a secret.
He becomes a black-ops soldier and earns the nickname "Killmonger". For every kill made, he adds a scar on his body. Killmonger is strategic, patient and highly skilled. An expert tactician, he desires to avenge his father's death and kill the present king T'Challa to seize the throne.
Executive producer Nate Moore describe the character as a person who "has his own opinion on how Wakanda has been run and should be run".
Black Panther's cast:
Nakia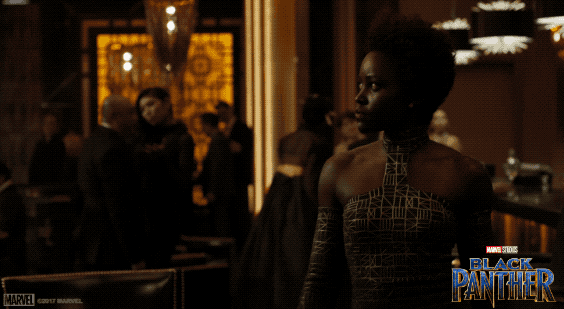 King T'Challa says he doesn't freeze, but he froze when he saw his former lover Nakia. Luckily, their romance isn't the main plot of the movie. Nakia is a badass. A War Dog and an undercover spy for Wakanda, she placed in other countries to complete missions and save people.
The Marvel movie begins with her fighting for enslaved women in Nigeria. She is played by actress Lupita Nyong'o. Although loyal to Wakanda, she isn't exactly on the same page as the king on the country's secretive political policies.
Other than being an expert spy, she is also an expert martial artist. We also get to see a few comical moments with her in the movie. But the most realistic part of her character is that she fights barefoot. For once, we get to see women in appropriate fighting mode.
Black Panther's cast:
Okoye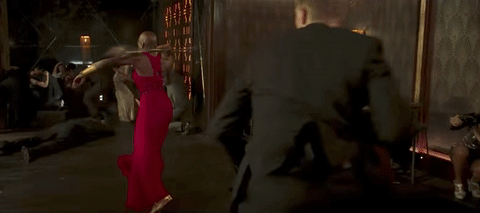 Okoye, a proud and traditionalist Wakandan, is the head of the Dora Milaje, a team of women who serve as special forces for Wakanda and T'Challa's bodyguards. The actress who plays her, Danai Gurira, described her as:
She can be serious, but she also has an unexpected sense of humor. She has a heart, but for her country and for her people.
Okoye's loyalty lies within the king of Wakanda. When T'Challa takes the throne first, she stands by his side. Later, she is forced to serve Killmonger when he manages to defeat T'Challa in a duel and seizes the throne.
Once Wakandans find out that T'Challa is alive and legally, still the king, she leads the Dora Milaje in a fight against Killmonger and persuades her lover, W'Kabi to do the same. For a disguise, Okoye is seen wearing a wig which she is dying to remove. Once the fighting starts, the first thing she does is throwing it away, taking off her heels and resuming to kick ass.
Black Panther's cast:
M'Baku
The leader of the mountain tribe the Jabari is against T'Challa becoming the king of Wakanda. The Jabari are people who believe that you must have a strong adherence and respect for the past in order to move forward. In protest of T'Challa, M'Baku challenges him to a combat but is allowed to yield instead of being killed.
When the king is vitally wounded, he looks after him until he regains his energy. He also later joins him in battling Killmonger. M'Baku is a powerful and ruthless warrior. He is absent for the most part of the movie, but he plays an essential role in the main tipping points.
Black Panther's cast being African-American, the Marvel superhero movie also features African tribes and culture. These characteristics and representations played a key role in gaining high ratings among critics.
Let's break down these representations:
The first notable feature depicted in the movie is the Mursi and Surma lip plates. These plates or disks are a form of ceremonial body modifications, mostly used in Ethiopia.
We see Queen Ramonda wearing specific headdresses. They are suggestive of the Zulu flared hats, which are worn by married women during ceremonies.
We can see a lot of Dora Milaje's costumes influenced by the Masai people of East Africa, usually residing in southern Kenya and northern Tanzania.
The mask Killmonger steals and later wears is called an Igbo mask, also known as Mgbedike. They are usually used in Igbo rituals and designed with bold masculine features to differentiate from the female dancers.
Another item of clothing used is the Basotho blanket. These are originally from the Lesotho people but are also common with the Sesotho people.
Ndebele neck rings can be found around Shuri's and the Dora Milaje's necks. These come from the Ndebele people of Zimbabwe who wear the collar to show their status and wealth.
The Himba people of north-western Namibia are known for their red earthy tone. This color can be found in many of the costumes of Black Panther. A red ochre paste, otjize, is applied to their skin and hair to acquire the color.
We see a numerous characters wearing scarves that cover their head and face. These are called Tuareg scarfs. The Tuareg people of Africa are known to live in North and West Africa.
Killmonger's tribal markings and scars on his torso are similar to the scar tattoos of the  Ethiopian tribes the Mursi and Surma.
T'Challa is seen wearing a scarf, called Kente. It is made from a type of silk and cotton made of interwoven cloth strips. These are found in Ghana among the Akan people.
Black Panther's cast isn't just a random assembly of actors. The Marvel superhero movie has actors of African ancestry. This is another reason why high ratings are important for the movie
Danai Gurira who plays Okoye is from Zimbabwe
The Dora Milaje warrior Ayo, who is played by Florence Kasumba is from Uganda
Another actor who's from Uganda is Daniel Kaluuya, who plays W'Kabi, T'Challa's best friend and Okoye's love interest.
Lupita Nyong'o who plays Nakia is Kenyan.
King T'Chaka, played by actor John Kani is from South African.
Black Panther has nailed every aspect of movie-making. Most importantly, Black Panther's cast celebrates diversity. The average ratings of the Marvel movie are 7.9/10 on IMDb and 97%. On Rotten Tomatoes. It has an 88% rating on Metacritic, which makes the Marvel movie universally acclaimed.
Check Out Other Posts Related to Black Panther's Cast: Why Marvel Superhero Movie's Cast Has High Ratings